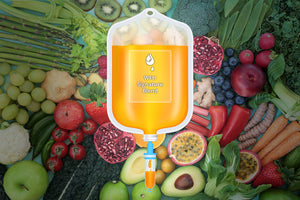 We have IV Drips for everyday health, wellness, jet lag, immune boosting, detoxification, relaxation, anti-aging and more! Each drip is packed with vitamins, minerals and nutrients to help replenish and improve nutritional health. 
Choose Your Drip:
Immune Boost Drip: restores vital nutrients and has high doses of vitamin c
Fountain of Youth: packed with anti-aging components, like antioxidants, to bring life back to dull, aging skin
Athletic Recharge: great for boosting hydration and electrolytes pre or post event or workout

WFH Signature Blend: boosts energy levels and restores important vitamins, like b-vitamins and vitamin c, and boosts antioxidants

Weekend Warrior: rapidly rehydrate and boost electrolytes to restore vitality 
Choose any of our powerful drips when you make your appointment.