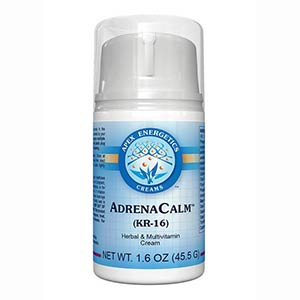 AdrenaCalm (KR16) is a multi-use rejuvenating cream that includes phosphatidylserine and key B vitamins, complemented by ingredients such as Valeriana officinalis, Polygala tenuifolia, and fresh bud extracts. Essential oils, such as lavender and juniper berry, have been added for their unique aromatic effects.
Suggested Use Apply one pump topically in the morning, afternoon, and evening, or as directed by your healthcare professional. Pump may require multiple presses upon first use. Seal pump with plastic plug after each use. Use within 120 days of opening. 
INGREDIENTS: Pyridoxal 5'-Phosphate (Vit. B6), Thiamin HCl (Vit. B1), Ubiquinone (CoQ10), Riboflavin (Vit. B2), Phosphatidylserine, Melissa officinalis (lemon balm), Silybum marianum (milk thistle), Polygala tenuifolia, Hypericum perforatum (St. John's wort), Valeriana officinalis, Corylus avellana (hazel), Juniperus communis, Tilia tomentosa (silver linden/lime), Citrullus colocynthis (bitter apple/gourd/cucumber), Anacardium orientale (marking nut), Matricaria recutita (German chamomile), Elm Flower Water, Gorse Flower Water, Olive Flower Water, Red Chestnut Flower Water, Vervain Flower Water, Impatiens Flower Water, Magnesium Phosphate, Nigella sativa (black seed) Oil, Essential Oil Blend (lemongrass, orange, lavender, juniper berry, pine). Cream Base: Aqua (deionized water), Helianthus annuus (sunflower) Seed Oil, Alcohol, Glycerin, Citrus Fruit Extract, Glyceryl Stearate, Polyethylene Glycol, Stearic Acid, Cetyl Alcohol, Stearyl Alcohol, Sesamum indicum (sesame) Seed Oil, Tromethamine, Polysorbate 80, Sorbic Acid, Salicylic Acid, Carbomer.