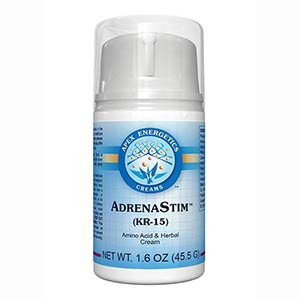 Product Description: AdrenaStim (KR15) is a revitalizing cream with rejuvenative ingredients, such as licorice root, fresh plant bud extracts, flower essences, giant sequoia extract, and Avena sativa. Essential oils, such as lemongrass and lavender, have been added for their unique aromatic effects. 
Suggested Use Apply one pump topically in the morning and at noon, or as directed by your healthcare professional. Pump may require multiple presses upon first use. Seal pump with plastic plug after each use. Use within 120 days of opening. 
INGREDIENTS Tyrosine, Glycyrrhiza glabra (licorice) Root Extract, Phosphatidylserine, Eleutherococcus senticosus (Siberian ginseng), Avena sativa (oat), Adenosine Triphosphate (ATP), Arnica montana, Medicago sativa (alfalfa), Matricaria recutita (German chamomile), Ribes nigrum (black currant), Betula pubescens (white birch), Quercus robur (English oak), Sequoia giganteum, Holly Flower Water, Impatiens Flower Water, Clematis Flower Water, Oak Flower Water, Olive Flower Water, Elm Flower Water, Hornbeam Flower Water, Vervain Flower Water, Nigella sativa (black seed) Oil, Essential Oil Blend (lemongrass, orange, lavender, pine). Cream Base: Aqua (deionized water), Helianthus annuus (sunflower) Seed Oil, Alcohol, Glycerin, Citrus Fruit Extract, Glyceryl Stearate, Polyethylene Glycol, Stearic Acid, Cetyl Alcohol, Stearyl Alcohol, Sesamum indicum (sesame) Seed Oil, Tromethamine, Polysorbate 80, Sorbic Acid, Salicylic Acid, Carbomer.