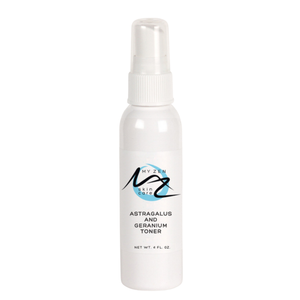 What it is: 
My Zen Astragalus and Geranium Skin Prep is a toner that cleanses and prepares the skin for a moisturizing toner, serum, and/or moisturizer. It has antibacterial properties so that it leaves the skin clean and fresh!
What it does:
This the perfect product for My Zen Cosmetic Acupuncture practitioners to prepare patients' skin prior to needling. Or, if you are struggling with blemishes, acne, or dermatitis this production will help resolve those issues. Can you believe that such a beautiful ingredient like propolis (made by bees) has antimicrobial properties? It's true. Plus the organic MSM helps take the other important, skin restoring herbs and oils deeper into your skin. Our natural ingredients work synergistically to allow you to have the best skin possible. 
What it is formulated WITHOUT:
Endangered plants or minerals
What else you need to know:
Put the My Zen Astragalus and Geranium Skin Prep on cotton balls or cosmetic rounds and gently rub on the skin in a circular motion. No need to wash afterward: you want the natural ingredients to stay on the skin. Follow with serums, moisturizers, etc. 
Lab tested for consistency and shelf life.