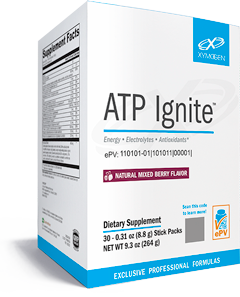 ATP Ignite™ transforms water into a great-tasting, revitalizing energy drink. Each stick provides a combination of B vitamins, electrolytes, trace minerals, amino acids, herbs, and antioxidants to fuel your body's energy production.
Clinical Applications:
Designed to Support a Healthy Energy Level*
Supports Electrolyte Replacement*
Helps Fight Free Radicals with Antioxidant Nutrients, Including S-Acetyl-L-Glutathione and 500 mg of Vitamin C*
Provides an Alternative to Ordinary Caffeine*
Provides Ingredients That Support ATP Biosynthesis*
Wheat, gluten, yeast, soy protein, animal and dairy products, fish, shellfish, peanuts, tree nuts, egg, ingredients derived from genetically modified organisms (GMOs), artificial colors, artificial sweeteners, and artificial preservatives.
* These statements have not been evaluated by the Food and Drug Administration. This product is not intended to diagnose, treat, cure, or prevent any disease.