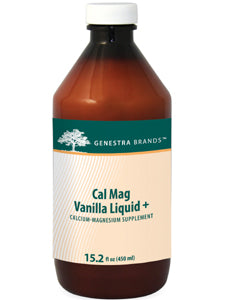 Cal Mag Vanilla Liquid+ 15.2 fl oz
Calcium-Magnesium Supplement
Dietary Supplement
Supplement Facts 
Serving Size 1 Tablespoon (15ml)
Servings per container 30
Each Serving Contains:
Vitamin D (cholecalciferol)  1,000 IU
Vitamin K1 (phylloquinone)  40 mcg
Vitamin K2 (menaquinone-7)  60 mcg*
Calcium (calcium citrate)  500 mg
Magnesium (magnesium citrate)  200 mg
*- naturally derived from soy beans
Other ingredients: Purified water, xylitol, natural vanilla flavor, citric acid, xanthan
gum, potassium sorbate, stevia leaf extract (glucosylsteviosides)
Recommended Adult Dose: One tablespoon taken once daily with a meal, a few hours before or after taking other medication, or as recommended by your healthcare practitioner.
Shake well before each use. Do not refrigerate. Risk Information: If you are taking blood thinners, consult your healthcare practitioner prior to use. Guaranteed to contain no added wheat, starch, yeast, gluten, artificial coloring or flavoring or dairy products. Quality Assurance: Safety-sealed for your protection and for product freshness. Do not use if outer seal is missing or broken. Store in a cool, dry place. Keep out of reach of children.