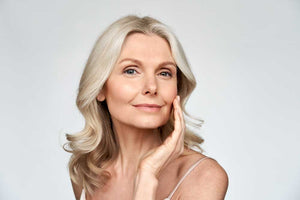 Cosmetic acupuncture focuses on treating the imbalances of certain physiological symptoms that could be effecting your outer appearance and using facial acupuncture points in order to create balance.
Needling can help to treat both concerns internally and externally. Your body comes with a natural healing process, which causes new tissue to grow.
Cosmetic acupuncture tells the brain to produce elastin and collagen and smoothing of fine lines and wrinkles is the outcome!
Other benefits outside of healthy, youthful skin, include improved sleep, better digestion, and improvement in overall energy.
Cosmetic Acupuncture helps with anything from wrinkles and puffiness to acne and sagging skin, fine lines, wrinkles, bags under the eyes, improved appearance of jawline and more!
Our cosmetic acupuncture treatments include: cosmetic acupuncture, a standard acupuncture treatment, application of all-natural skin care products, and more!