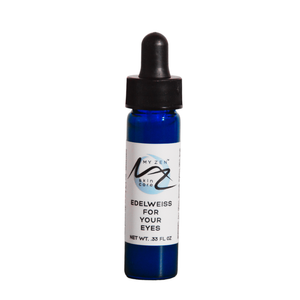 What it is:
A quick drying serum used to fight crow's feet and lines around the lips with fine line smoothing and collagen improvement active ingredients.
What it does:
Pamper and perfect the area around your eyes with this serum. This peptide anti-wrinkle formula tackles crow's feet. The Edelweiss stem cells help to improve collagen and smooth the appearance of wrinkles. Our other ingredients smooth the skin's surface and reduce the appearance of harsh wrinkles. They nourish the skin and improve its natural renewal ability. My Zen Edelweiss for Your Eyes clears follicles to prevent inflammation, brightens the skin, protects, moisturizes, and has antioxidant benefits. Say goodbye to crow's feet!
What it is formulated WITHOUT:
What else you need to know:
Use one drop (yes, just one drop) per eye area morning and night. You may also use this product for lines around the lips and on the neck. Follow up with your moisturizer.
This product has been allergy and dermatologist tested and is approved for safe use around the eye area.