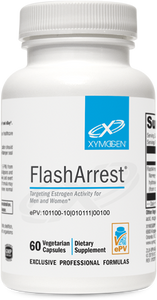 This all-natural formula may support cardiovascular, bone, breast, and prostate health and help relieve normal menopausal discomforts.*
Clinical Applications:
Supports the Body's Natural Process of Healthy Aromatase Activity*
May Support Bone, Breast, and Prostate Tissue Health*
Helps to Relieve Normal Menopausal Symptoms, Such as Hot Flashes*
Supports Cardiovascular Health*
Wheat, gluten, corn, soy, animal and dairy products, fish, shellfish, peanuts, tree nuts, egg, ingredients derived from genetically modified organisms (GMOs), artificial colors, artificial sweeteners, and artificial preservatives.
* These statements have not been evaluated by the Food and Drug Administration. This product is not intended to diagnose, treat, cure, or prevent any disease.