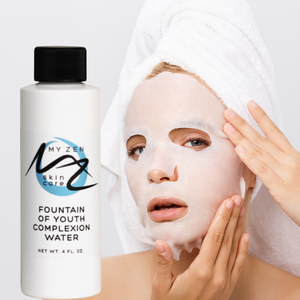 A must-have in every skincare regimen. Our Fountain of Youth Complexion Water is a lightweight treatment that can truly help your skin fight the visible signs of aging. 
Our line uses the best of Chinese medicine and Korean beauty secrets and natural ingredients to create skin care products and routines to help you achieve beautiful, hydrated, youthful skin.
Our botanically-charged elixir is developed to do this for you:
+ reduce the appearance of fine lines and wrinkles with powerful hyaluronic acid and a selection of botanicals
+ help create smoother and tighter looking skin
+ help create a look of plumpness and volume, radiance and bounce
+ slow down the aging process
Taking care of your skin can allow for a healing process that refreshes your skin's appearance and helps to restore its structure.
Hyaluronic acid is your skin's main moisturizer and can have long lasting benefits.
Vitamin C can reduce premature wrinkling by stimulating the growth of collagen.
Green tea contains biological compounds called polyphenols. A sub-group of polyphenols called catechins effectively destroy free radicals and help slow down the aging process.
This My Zen anti-aging product nourishes your skin with hyaluronic acid and vitamin C plus two of our signature ingredients astragalus (huang qi) and green tea (lu cha). 
What it is formulated WITHOUT:
Parabens
Phthalates
Endangered plants or minerals
Gluten
Our products are never tested on animals