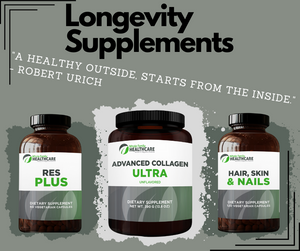 The Longevity Bundle contains advanced, ultra-collagen supplementation to help reduce the appearance of fine lines and wrinkles, while also providing joint and bone support.
It also contains Res Plus, a combination of resveratrol and quercetin that work together to revive senescent or "mummy cells", optimizing cell health.
Finally, it includes Hair Skin & Nails, a multivitamin that contains essential vitamins and cofactors to help support tissue healing and improve hair, skin, and nail health.
* These statements have not been evaluated by the Food and Drug Administration. This product is not intended to diagnose, treat, cure, or prevent any disease.