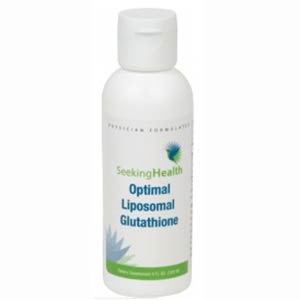 Optimal Liposomal Glutathione provides 500 mg of pure liposomal glutathione per serving in a base of tested non-GMO certified phosphatidycholine derived from sunflower - not soy! Glutathione supports detoxification and liver function, the immune system, energy production and heart and lung function. This is a non-soy formula. 
Serving size 4 ml. 
Servings Per Container 30 Glutathione 500mg Phosphatidylcholine (non-hydrogenated) and Phosphatidylethanolamine complex (from non-gmo Sunflower) 400mg 
Suggested Use: Shake lightly before each use. On an empty stomach or between meals, fill 1 tsp nearly full and mix in 1 oz of water, juice or take directly in mouth. Take away from food by at least 15 minutes. Given the potent taste of glutathione, it is best to mix in juice. 
Other Ingredients: Purified water, potassium sorbate and natural tropical fruit flavors including Pineapple. Fruit flavors contain no alcohol, no artificial flavors or sweeteners, or msg. Does not contain Gluten, Dairy, Egg, Soy, Fish, Shellfish, Nuts, Corn, GMO, Prebiotics, Potato Warnings Store in a cool, dry place (59-85 degrees) away from direct sunlight. Keep out of reach of children. Age Child, Adult Delivery Liposomal