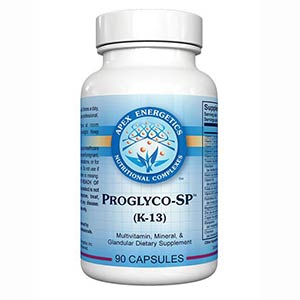 Proglyco-SP supports sugar metabolism and a healthy glycemic response with an evidence-based array of vitamins, targeted minerals (including chromium and manganese), four key bovine glandulars (pituitary, adrenal, pancreas, liver), and complementary amino acids. It also helps maintain blood sugar levels already within the normal range. The formula contains antioxidant vitamins A, C, and E.
Supplement Facts: Serving size 1 capsule 
Servings per container 90
Amount Per Capsule: Vitamin A (as mixed carotenoids) 1000 IU Vitamin C (as ascorbic acid) 150 mg Vitamin D (as cholecalciferol) 200 IU Vitamin E (as mixed tocopherols) 30 IU Vitamin K (as phytonadione) 5 mcg Thiamin (as thiamin HCI) 15 mg Riboflavin (as riboflavin 5-phosphate) 10 mg Niacin (as niacinamide) 25 mg Vitamin B6 (as pyridoxal 5-phosphate) 5 mg Folate (as calcium folinate) 400 mcg Vitamin B12 (as methylcobalamin) 100 mcg Pantothenic Acid (as d-calcium pantothenate) 25 mg Magnesium (as magnesium citrate) 35 mg Zinc (as zinc picolinate) 5 mg Copper (as copper gluconate) 500 mcg Manganese (as manganese gluconate) 5 mg Chromium (as chromium picolinate) 150 mcg Adrenal (bovine) 30 mg Choline (as choline bitartrate) 25 mg Liver (bovine) 20 mg Pancreas (bovine) 20 mg Pituitary (bovine) 20 mg Inositol 20 mg Carnitine (as L-carnitine fumarate) 10 mg CoQ10 (as ubiquinone) 2.5 mg Rubidium (as rubidium amino acid chelate)20 mcg Vanadium (as vanadium amino acid chelate)10 mcg Proprietary blend: 57 mg* of Bromelain, Betaine HCI, Licorice (root), Cellulase (plant enzyme), Peptidase (plant enzyme), Lipase (plant enzyme). *Daily Value (DV) not established. 
Other ingredients: Capsule (gelatin), cellulose, dicalcium phosphate.