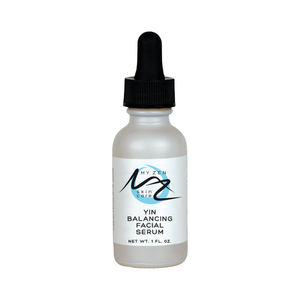 What it is: 
You will be amazed at how this light serum can moisturize! This serum is rich in beta carotene, vitamins D, C, and E, flavonoids, and essential fatty acids.
What it does:
My Zen Yin Balancing Facial Serum absorbs quickly into the skin and protects it from moisture evaporation. Here's some information about some of our 
star ingredients
. One of our signature ingredients, xing ren (apricot seed oil), is anti-aging because it drives deep into the skin making its moisturizing effects last. Another signature ingredient, Lüchá (green tea essential oil), has been used in China for more than 1000 years to help eliminate fine lines and improve skin's resilience. Bì máyóu (castor oil) … we know, it sounds weird BUT this great serum deeply penetrates the skin to nourish it with fatty acids and also stimulates the production of collagen and elastin thereby delaying the appearance of lines and wrinkles. It also treats age spots because of its ability to reduce pigmentation. 
Tian shu kui (geranium) nourishes skin cells, heals the skin, and helps old dead skin cells slough off so your skin has a bright, fresh appearance. It also helps fade age spots and acne scars.
What it is formulated WITHOUT:
Parabens
Phthalates
Endangered plants or minerals
Gluten
And we never test on animals!
What else you need to know:
It's always good to gently shake before using.
Wash your face, neck, and décolleté and while still damp, apply the serum. All you need are about 3 or 4 drops for your entire face … then a few for your neck and décolleté.